CAVERSHAM PHYSIO NEWSLETTER No.37, March 2018
1992 Ben's first birthday party on our first day at Caversham Physio
Hello again everyone from the team at Caversham Physio,                                                                                                     2018 (>25 years on!)
It has been a very busy start to 2018 for us all, and being able to make the most of the "best summer weather ever" has been such a treat. No doubt, you have all been busy enjoying it too, and let's hope Arnold's (Geoffrey's Dad) words "you'll pay for this" don't ring in our ears over winter! Anyway, it has been stunning and luckily it just keeps on giving.
We have had some exciting news over summer, which we wanted to share with you all too. Blair and his wife Heather are buying into our business here at Caversham Physio, and we are super excited about this. Blair has been working with us for two years now, returning to home town Dunedin after selling his physio practice with a special interest in Bike Fit and athletic rehabilitation in Sydney. He has been building a large following in the cycling, athletics, high performance sports and many other communities here in Otago and Southland, and we are loving working with him in Caversham. Geoffrey will be working every day, as always, so you won't notice anything changing at the clinic particularly we think, and Nicki will continue to run everything at the front desk with her usual efficiency. Leah continues to deliver her wonderful massages to us all and her many devoted clients each Wednesday and Friday, so life very much continues as always in the clinic.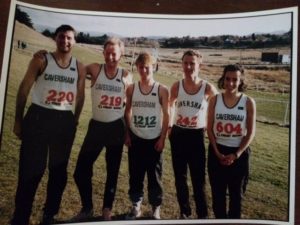 Picture shows Geoff and Blair working earlier as a team for Caversham (approx. 25years ago too!)
There are some lovely new faces though who are also joining us this year. Jayne Dickison is coming to look after many of our shoulder patients at the clinic. Jayne has had a special interest in helping those with shoulder injuries, and works closely with all the surgeons at Mercy Hospital, seeing patients before and immediately post op there. She has been travelling over to Vietnam annually with the surgical team from Mercy to upskill the local health professionals on how best to manage patients, and also delivers shoulder education sessions to Dunedin physio's on latest rehab ideas. We are delighted she is joining us at Caversham, and if you would like to book in to have her expertise, Jayne is going to be available to us on Mondays and potentially Thursdays too later in the year. Jayne trained with Blair here in Otago, and since that time has worked as part of the hospital physiotherapy team, working with senior patients, children, and at the Forbury Resource Centre with children with special needs. Jayne has also worked for the University of Otago Physio School as a clinical educator plus demonstrating in the Anatomy Department. Since 2004 Jayne has co-owned her own physiotherapy practice at Mercy Hospital with Shelley Aitcheson, working with the many surgical patients there until they are discharged home. She comes with a wealth of experience, and we are loving having her in the clinic already.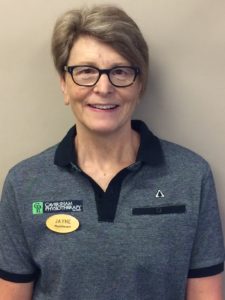 In May, one of Geoffrey and Barbara's Physio School classmates is also coming to join the team. Marcelle has worked in Auckland for the majority of her physiotherapy career, but has decided with her husband Rob to travel south, and enjoy the pace and lifestyle that Otago offers. This was GREAT news for us, as Marcelle has previously worked in clinics very similar to ours, and has also owned her own clinic previously, so also has very good skills to complement Caversham Physiotherapy. If anyone has a rental property they would like to fill, we can certainly vouch for these guys as wonderful tenants, and the "designer dog" who comes too from Auckland, is a very tidy, non-hair-shedding breed, so a great trio of tenants for you.
Our other visitor recently from afar has been our son Ben, who returned from the UK for two lovely friends' weddings over summer – it was very special to have him back on this side of the world for a couple of months, and I think he was pretty happy to have lucked in on the best summer ever too! He left Dunedin in 32 degree heat, and arrived back in London to 2 degrees. He has just run in the English National Cross Country champs, which were held this year in London on Hampstead Heath, and we were thrilled to hear he finished 56th, out of 2328! He is delighted as has been coming back from injury, so a wonderful result in the mud! Last weekend he ran in Richmond Park, winning that race, and earning a trophy that is the oldest cup there for his running club Ranelagh (one of the oldest clubs in the UK, established in 1881). The trophy is of such value that he cannot transport it via public transport, and so it needs to go safely with him via taxi to its destination. If you examine closely you will see the Caversham Harriers shorts put to good use!
You may remember that last newsletter contained many pictures of our Millie's beautiful litter of 9 German Shorthaired Pointer pups. They all headed off to their new homes around New Year, apart from two who holidayed with us at Wanaka for a few weeks until their new owners returned from their summer holidays (see pic of Margie with those guys). They are spread far and wide: one in Auckland, who features on their business Instagram, two in Southland on farms, two in Rolleston, one in Geraldine, and three in Dunedin. We loved having them with us, and Millie has adapted very well to being sole pooch again, and her spaying, which we had done on return from holiday. She is loving returning to running with Geoffrey, and hopefully doesn't trip him up too many more times (especially not whilst he's carrying her poo bag again anyway!)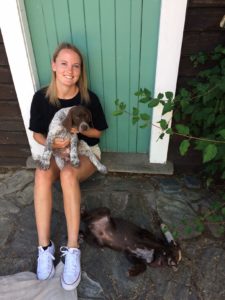 It is nearly accreditation time for the clinic again – we are accredited until 2020, but all clinics have to have midway visits during that period, and this is nearly upon us, so if you are attending in late March, you may be there on the day. We welcome the opportunity to showcase our clinic to the auditors, and always appreciate their feedback and kind comments.
Pilates restarted last month, and we have lots of new people joining in the classes this year, which has been lovely. Welcome everyone, and it is great to see you making such good progress. Bella Bloomfield took over from Katie Doig as our Thursday evening instructor last year, Monday classes are taken by Geoff, and Tuesday classes by Blair, although there are swaps from time to time, when trips out of town occur. If you are interested in joining Pilates for Term 2, which will be starting the week of 30 April, do get in touch. We run our classes during school term times, so that families and teachers can have a break during the holidays, making it is easy to start at the beginning of new terms if you are keen to join in.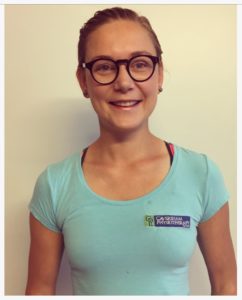 Blair has the New Zealand Ballet back in town soon, so will be providing the physio services for the dancers again this year. They are such amazing athletes, and we always enjoy being able to look after them in Dunedin.
Geoffrey is currently away with his annual bike tour – this time from Auckland down and around to the Coromandel, before heading to Rotorua and back via Huntly, which will all be gorgeous no doubt. They departed from Auckland last weekend for Thames, then headed to Whitianga, and have a steady week of cycling before flying back to Dunedin this weekend. Always lots of fun, and plenty of good stories abound during and after. Hopefully traffic is kind to them, and all return unscathed.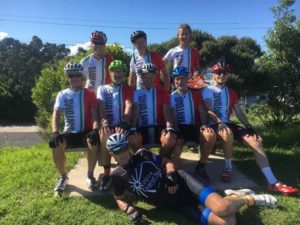 Spot Geoffrey in the picture top right (holding his superb new helmet for the picture!)
Geoffrey and Barbara are very excited to be off to watch the Commonwealth Games athletics in April. We heard of some tickets that were available, and thought it was too close to New Zealand not to try and make it work, so yes we will be there. We are also lining up for the 5km run that anyone can sign up for on the final day – thousands will be lining up on the marathon course – let's hope the Gold Coast is having reasonable temperatures that day, or we Dunedinites might not cope! It will be fun, and nice to feel a part of it then too before we head back to New Zealand.
Geoffrey loved being part of the recent Oceania champs in Dunedin – a great atmosphere and some fabulous athletics achievements at all ages. Here with Rob Homan, Blair, Heather, Ruby and Alex after winning 5km, and in the next day's 800m race he was 2nd in 2:24. Great fun! There is a bit of an exodus during April sadly all at the same time though, so Blair will need to turn himself into an octopus that week.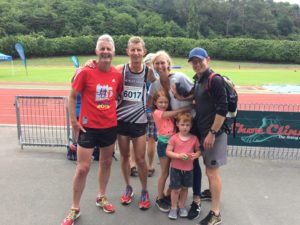 Nicki is also away during our time at the Commonwealth Games, as she and Jamie head off on a wonderful cruise and relax for 3 weeks, and Jayne goes with the medical team to Vietnam for 2 weeks. Barbara will help try and fill Nicki's shoes on reception once we return from the Games, but it will certainly be a busy week for Blair whilst we are all away!
Grateful thanks to Nicki's parents Jim and Sue Duncan who accompanied Geoffrey and I when we went to talk to David Clark about the need to save the Physio Pool, to try and ensure it is included in any redevelopment plans for the hospital rebuild as they are being formulated. This wonderful resource, NEEDED BY SO MANY people in our community, is just a treasure that needs to be incorporated into the plans. We are SO lucky to have it, so we must work really hard to ensure it is kept. Fingers crossed that a wonderful, innovative and clever architect will ensure it remains to keep Otago people able to rehabilitate in it for years, and in so doing, keep themselves out of hospital! Anyway, as this is my last newsletter to you all after 25+ years in Caversham, it comes with lots of best wishes for 2018 and beyond.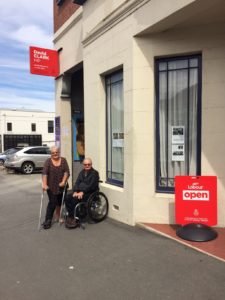 You'll still see me working at Mercy with all cardiac patients, so don't forget to say Hi if you are up there. Thank you for the many kind comments we always receive from you after the newsletter comes out, thanks to our Margie for her wonderful Mailchimp skills on the electronic version of the newsletters (if you need digital marketing help she's available too!), and all the best to Blair and Heather as they take the clinic onwards and upwards for the next 25 years in Caversham. Geoff and Barbara.