Geoffrey and Barbara are very excited to be off to watch the Commonwealth Games athletics in April. We heard of some tickets that were available, and thought it was too close to New Zealand not to try and make it work, so yes we will be there. We are also lining up for the 5km run that anyone can sign up for on the final day – thousands will be lining up on the marathon course – let's hope the Gold Coast is having reasonable temperatures that day, or we Dunedinites might not cope! It will be fun, and nice to feel a part of it then too before we head back to New Zealand.
Geoffrey loved being part of the recent Oceania champs in Dunedin – a great atmosphere and some fabulous athletics achievements at all ages. Here with Rob Homan, Blair, Heather, Ruby and Alex after winning 5km, and in the next day's 800m race he was 2nd in 2:24. Great fun! There is a bit of an exodus during April sadly all at the same time though, so Blair will need to turn himself into an octopus that week.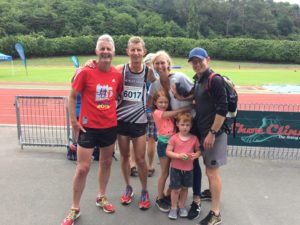 Nicki is also away during our time at the Commonwealth Games, as she and Jamie head off on a wonderful cruise and relax for 3 weeks, and Jayne goes with the medical team to Vietnam for 2 weeks. Barbara will help try and fill Nicki's shoes on reception once we return from the Games, but it will certainly be a busy week for Blair whilst we are all away!
Grateful thanks to Nicki's parents Jim and Sue Duncan who accompanied Geoffrey and I when we went to talk to David Clark about the need to save the Physio Pool, to try and ensure it is included in any redevelopment plans for the hospital rebuild as they are being formulated. This wonderful resource, NEEDED BY SO MANY people in our community, is just a treasure that needs to be incorporated into the plans. We are SO lucky to have it, so we must work really hard to ensure it is kept. Fingers crossed that a wonderful, innovative and clever architect will ensure it remains to keep Otago people able to rehabilitate in it for years, and in so doing, keep themselves out of hospital!